Electrical hazard (EH) rated safety boots
Views: 28 Author: TIGER MASTER Publish Time: 2021-12-29 Origin: Site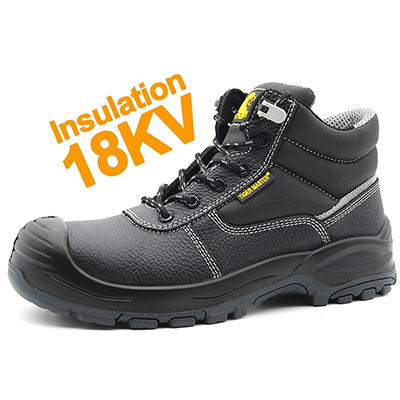 Tiger master is safety footwear manufacturer in china. We have insulation 18kv safety boots for electrician. Made by embossed split cow leather upper, PU dual density sole or PU & rubber outsole. Meanwhile, we are also a professional brand for personal protective equipment (PPE), especially in the fields of safety gloves, working garments, helmets, safety vest, safety harness, rain coat/suit, traffic products etc. Now we will introduce electrical hazard (EH) rated safety boots.
What are electrical hazard rated safety boots?
Electrical hazard (EH) rated safety boots meaning they provide a secondary source of protection for you from electric shocks or electrocution. The idea behind these EH rated safety boots is pretty simple, the entire surface of the boot is made from non-conductive materials and as a result no electrical charge will pass through the body, because you are fully isolated from the ground. EH rated safety boots have an Electrical Hazard (EH) rating on them, meaning they have been tested by the American Society for Testing and Materials (ASTM) for their protection against an electrical shock.
IMPORTANT NOTE:
In some cases, EH rated safety boots can be affected by certain factors which decreases their potential to keep the wearer safe. The excessive wear of the soles or exposure of these EH boots to wet conditions, humid conditions or both can reduce the effectiveness. EH rated safety boots are usually worn when working in dry areas where the potential for electrocution is at high risk, do not wear these in wet, hazardous or explosive areas!
---
EH rated safety shoes are isolating safety shoes and cannot be confused with conductive safety shoes, like ESD or antistatic safety shoes, which have a whole other purpose.
Health risks from electric contact
Electrocutions are one of the most frequent electrical hazards in construction sites. When in direct contact with electric high voltage equipment, such as overhead powerlines or transformer cabins, electrocution can be fatal by cardiac arrest. Each year they cause more than 300 deaths and 4,000 injuries. Electricity flows through conductors including metals, water, earth, but also the human body. When electrical equipment is functioning properly, the circuit is maintained between the tool, the wires and the electric source.
However, in case of a malfunctioning machine or circuit, the operator can become part of the electric circuit. When in direct contact with a "live" wire, a person can feel a tingling sensation, over an intense electric shock, to ultimately a fatal electrocution, depending on the power, frequency and type (AC/DC) of electric source. Voltages over 50V AC or 120V DC are considered hazardous.
Main causes of electrical injury or electrocution:
Electric contact can occur in many ways and situations, we listed the most common below:
defective or damaged tools, badly maintained equipment

inadequate wiring, improper grounding

unsafe work practice or environment

unexpected exposition to electric parts

contact with overhead power lines, high voltage circuits

overloaded circuits, improper insulation
Recommened insulation 18kv safety boots for electrician:
Thank you for your interest of Tiger Master, hope you can find the products you want and start our business cooperation. If you need more information, please do not hesitate to contact us, we are always ready here.